---
Parents, please take a moment to take the JCE Parent Survey. Your thoughts and imput are very important to us as we continue to grow here at Jacksonville Commons Elementary! The survey link can be found here:
---
Upcoming Events
Click Here to Read Spring Newsletter

OCS Chess Tournament for 4th and 5th Grade Students -- 4/27(Wednesday) -- Multipurpose Room
OCS Chess Tournament for 2nd and 3rd Grade Students -- 4/28(Thursday) -- Multipurpose Room
Regular School Day for Students -- 4/29(Friday)
2nd Grade Musical Performance -- 4/29(Friday) -- 12:00 pm -- Multipurpose Room
7 Habits Family Training -- 4/29(Friday)
Teacher/School Employee Appreciation Week -- 5/2-5/6
PTO Meeting/3rd Grade Heroes Musical Performance -- 5/3(Tuesday) -- 6:30 pm -- Multipurpose Room
Bike to School Day -- 5/4(Wednesday) -- Commons Recreation Center
Interim Reports -- 5/5(Thursday)
5th Grade Middle School Orientation -- 5/6(Friday)
Girls on the Run Race -- 5/7(Saturday)
Kindergarten Registration -- 5/10-5/11(Tuesday and Wednesday) -- 9:00 am-1:00 pm
Spring Red Cross Blood Drive -- 5/20(Friday)
Grades 3-5 Math and ELA EOGs -- 5/25-5-26(Wednesday and Thursday)
Memorial Day Holiday -- 5/30(Monday)
5th Grade Science EOG -- 6/1(Wednesday)
K-2 Field Day -- 6/2(Thursday) -- 8:30 am-12:00 pm
3-5 Field Day -- 6/3(Friday) -- 8:30 am-12:00 pm
Last Day for Students -- 6/7(Tuesday)
---
JCE News Letter
---
JCE Leader In Me Video from Leader In Me Day on April 20th, 2016
---
Kindergarten Readiness Fair
This event is for Military Families with students entering Kindergarten for the 2016-2017 school year.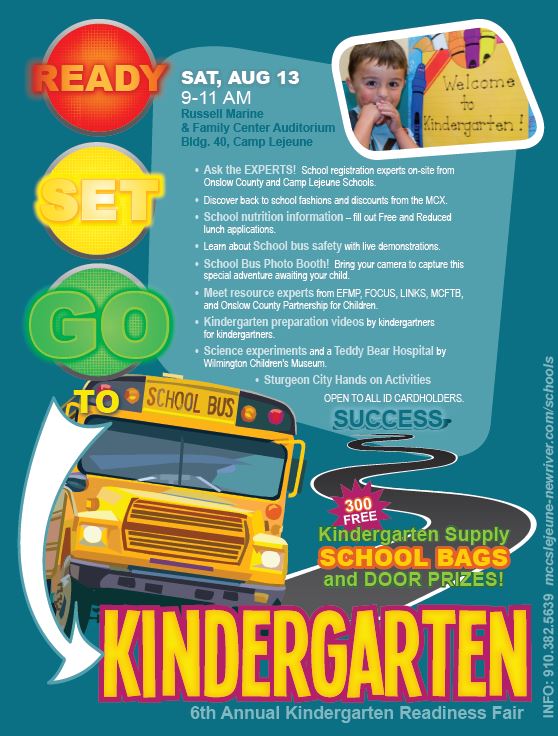 ---
JCE 4th Grade Students Performing "PBIS Rap" created by the 4th Grade Students
---
Fitness Competition
On Wednesday, March 23rd, we had our annual JCE Fitness Competition hosted at the Northside High School Track. Students from grades 3-5 were selected to compete in the events of sit-ups, flex arm hang, 40meter dash, and the mile run. The students had a blast competing. We would like to thank the Marines that came out to volunteer to help run the events, parents and guardians who came out to support all of our students, and the JCE Staff for helping out in order to make sure the event ran as smooth as possible!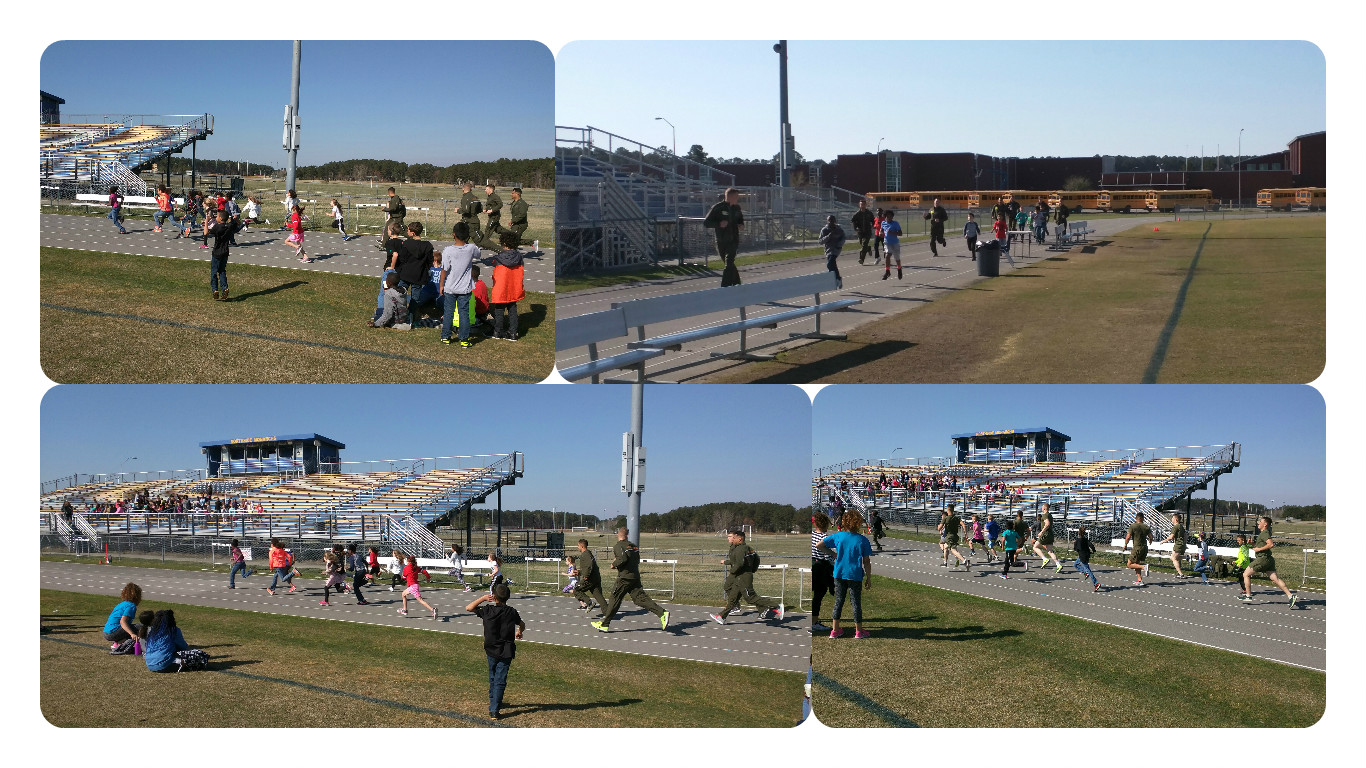 ---
Duke Energy Science and Performing Arts Night at JCE!
On March 1st, we had a fun filled evening at JCE which included an Art Show, Science Activities, a Book Fair, and a Recorder Concert! We would like to thank all the families, friends, and students who came out to support and particiapte in the sponsered activities that night! We had a blast and we know the students who participated did as well! Here is a video recap of the evening showing off some of the events, students, and activities!

---
Onslow County Science Olympiad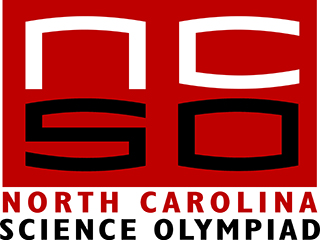 16 schools in Onslow County participated in this year's Science Olympiad. There were 19 events and about 1,000 students grades 1-5 that competed. We had 13 students represent JCeS TeAm AuSOMn. (Periodic Table of Elements abbreviation).
Coach: Cheryl Ryba
Assistant Coaches: Jackie Jack and Melissa Skourdolis.
Here are our winners for Science Olympiad:
Keira Ryba 3rd Place: 3,2,1 Blast Off
Adja Riouf, Jack Mifflin, Ethan Suggs 2nd Place: STEM Design Challenge
Angelina Lopez, Jack Mifflin 2nd Place: Marshmallow Catapult
Isabel Baysden, Ayden Thomas 2nd Place: Fossil Frenzy
Isabel Baysden, Mika Gilger, Keira Ryba: 1st Place: Science Sketchers
Julian Rojas: 1st Place: First in Flight
Other participating JCE Students: Annalise Staley, Terren Burley, Antonia Romano, and Reina Lopez (absent during competition but came to every practice).
Out of 16 schools, JCE captured 5th place overall and has a trophy to display in the case!
For more information about the Science Olympiad in North Carolina, please visit http://www.sciencenc.com/
---
5th Grade DARE Graduation
All 5th grade students were graduated today in the DARE program delivered by the Jacksonville Police Department. Students were in a 10 week course conducted by Officer Wagner of the JPD. Students were taught content including dealing with stress, decision making, peer pressure, drug resistance and much more! Today marked the ceremony where students received DARE certificates. Congratulations to the 5th grade students for all their hard work along with a big THANK YOU to Office Wagner for his continued support here at JCE!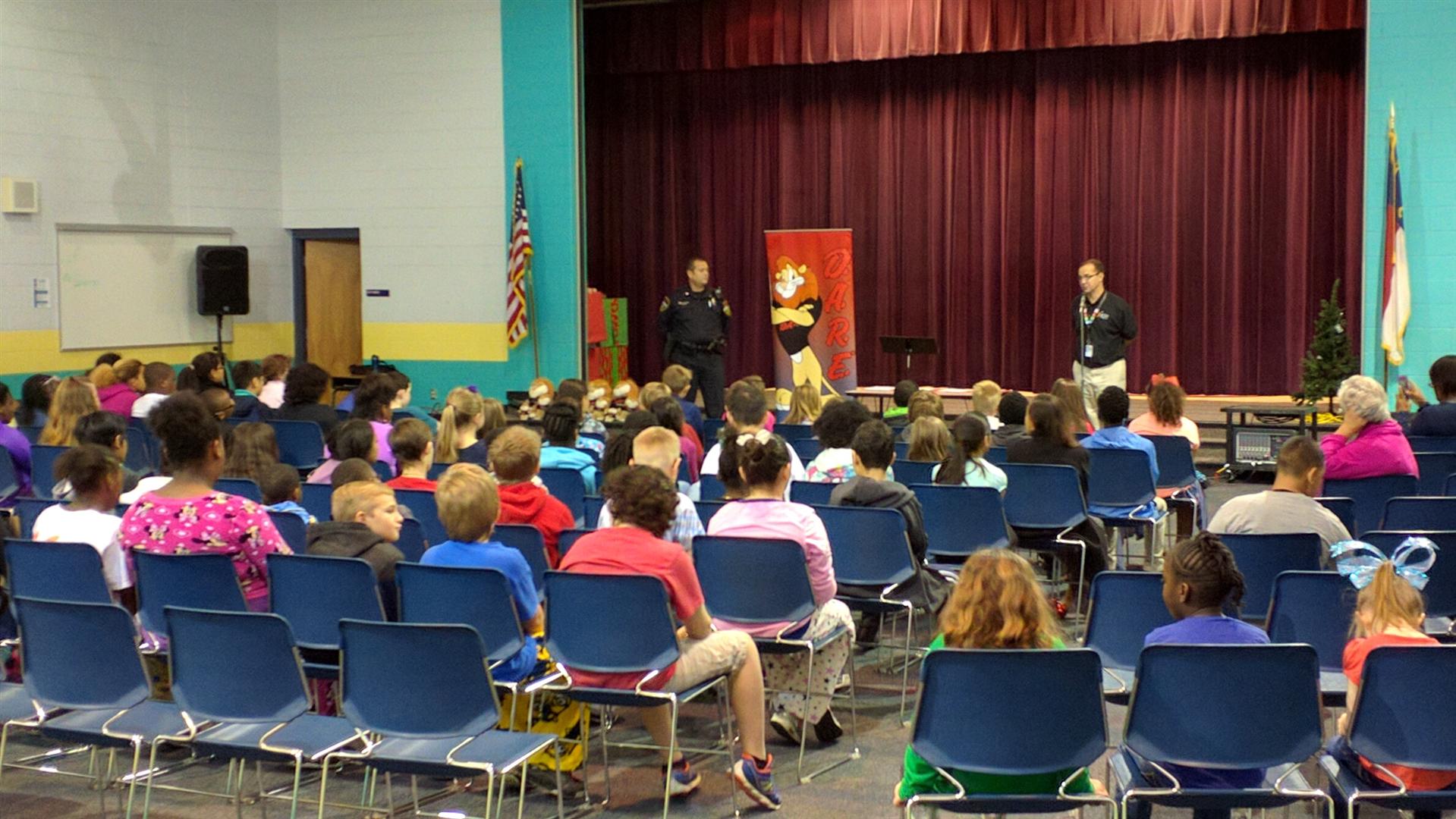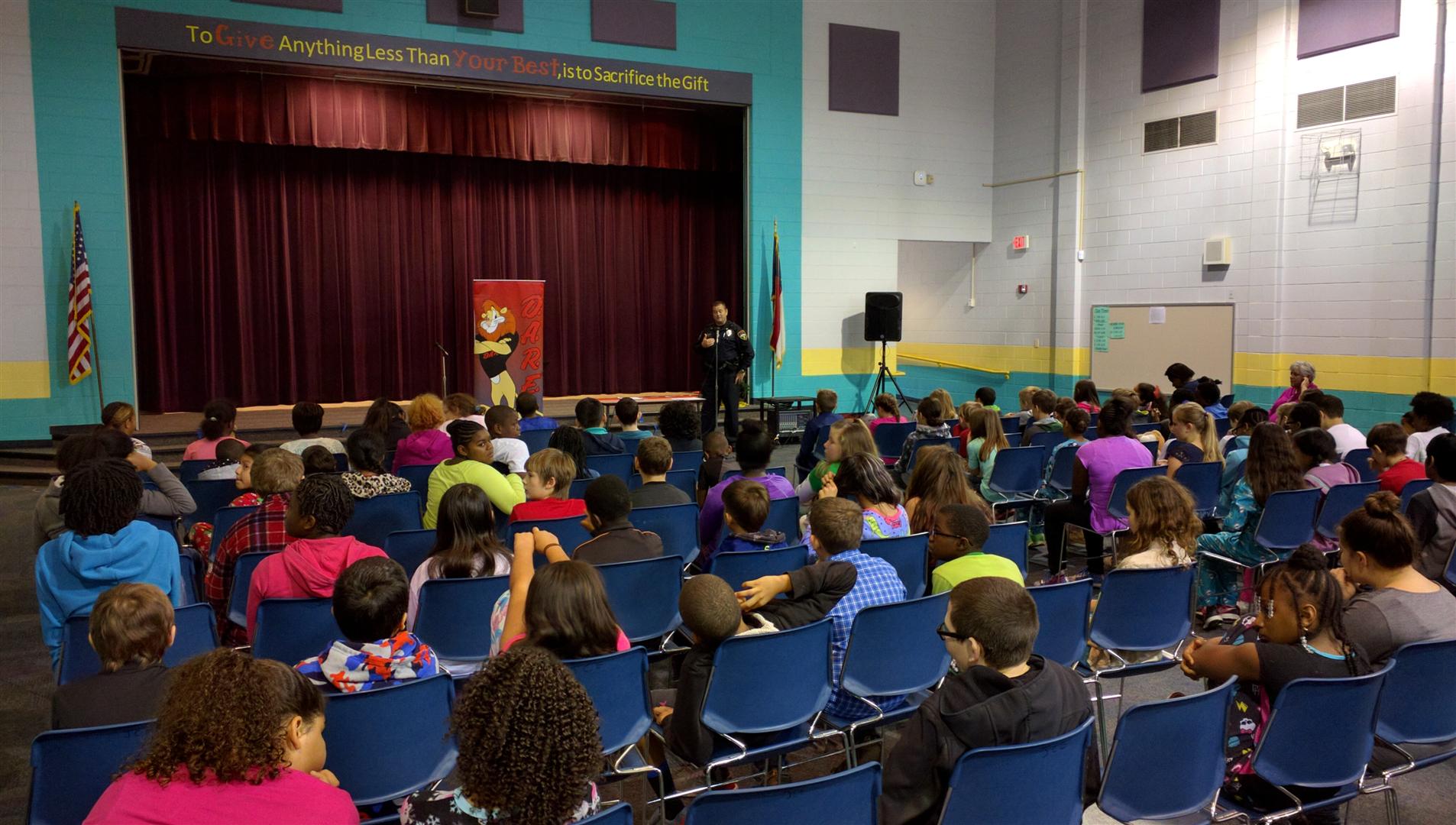 ---
Christmas Cheer Food Drive

Students have been bringing in food items for the Christmas Cheer program this past week here at JCE. Individual classrooms and grade levels were competing on bringing in the most food items for the program! A big congratulations to the entire school for bringing in 2,505 items! The winning classroom was Mrs. Chase-Mapp with the 1st grade also being the grade level that brought in the most goods! Awesome job JCE!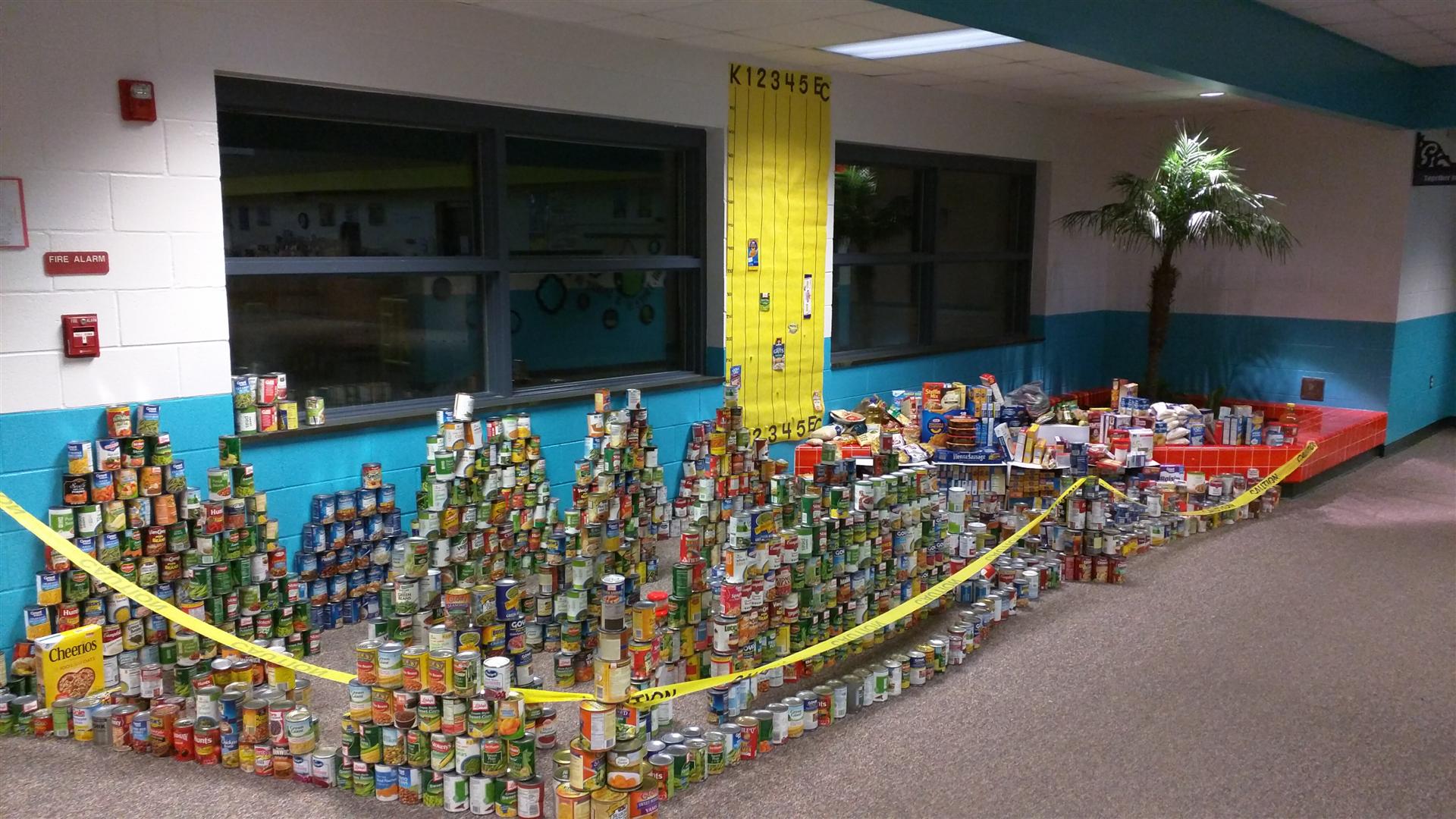 ---
Science and Engineering Fair
5th grade students competed in the Science and Engineering Fair on Friday, Dec. 4th. Students conducted experiments, formed hypothesis, analyzed data, and presented their outcomes to a number of judges which included the STEM Academy students from Northside High School. The 5th grade students did an excellent job putting together their presentations and research! We would like to congratulate all the participating students for a job well done!
Here were the finalists!
First Place: Jenna Hewes
Second Place: Flora Castle
Third Place: Jack Mifflin
Honorable Mentions:
Lydia Shepard
Ashlyn Hansen
Alana Bomar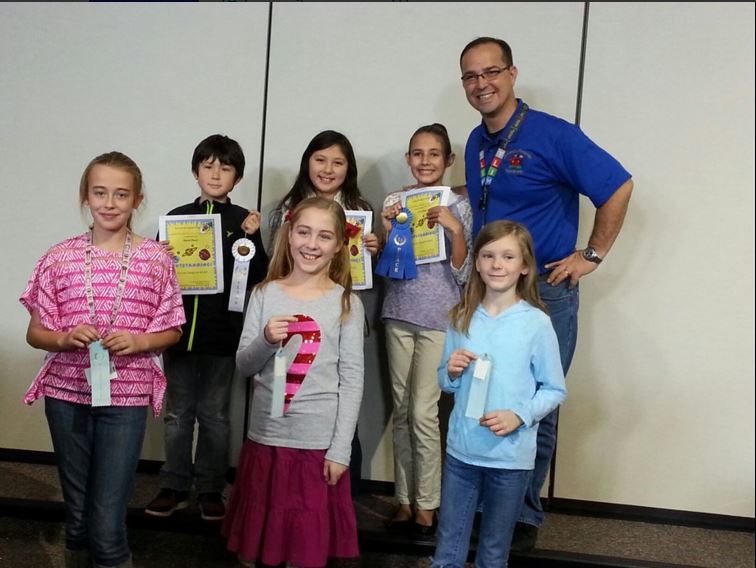 ---
Student Tardies
In the interest of our students, we are trying to lower the amount of tardy students here at Jacksonville Commons Elementary. We are asking students and parents to be more aware of when students are arriving on campus in order to ensure students are receiving the maximum amount of instructional time with their teachers. When students arrive past 7:15, we have some procedures in place:
1) We are asking parents or guardians to come into the building and check their student in
2) Phone calls will be made keeping parents and guardians informed when a student is tardy along with the number thus far during the current school year
3) Classes who have the least amount of overall weekly tardies will receive an incentive
We are also Score Boarding weekly tardy counts in our front lobby. Parents and guardians are encouraged to come take a look and stay informed on how the entire school fairing.
---
Thanksgiving Celebration
We would like thank all the Cafeteria Staff, our JCE PTO, Student Leaders, and Staff Members who helped make the JCE Thanksgiving Celebration a wonderful and enjoyable event! It was great to gather as a school community along with welcoming JCE parents to come spend some quality time with our students and our school!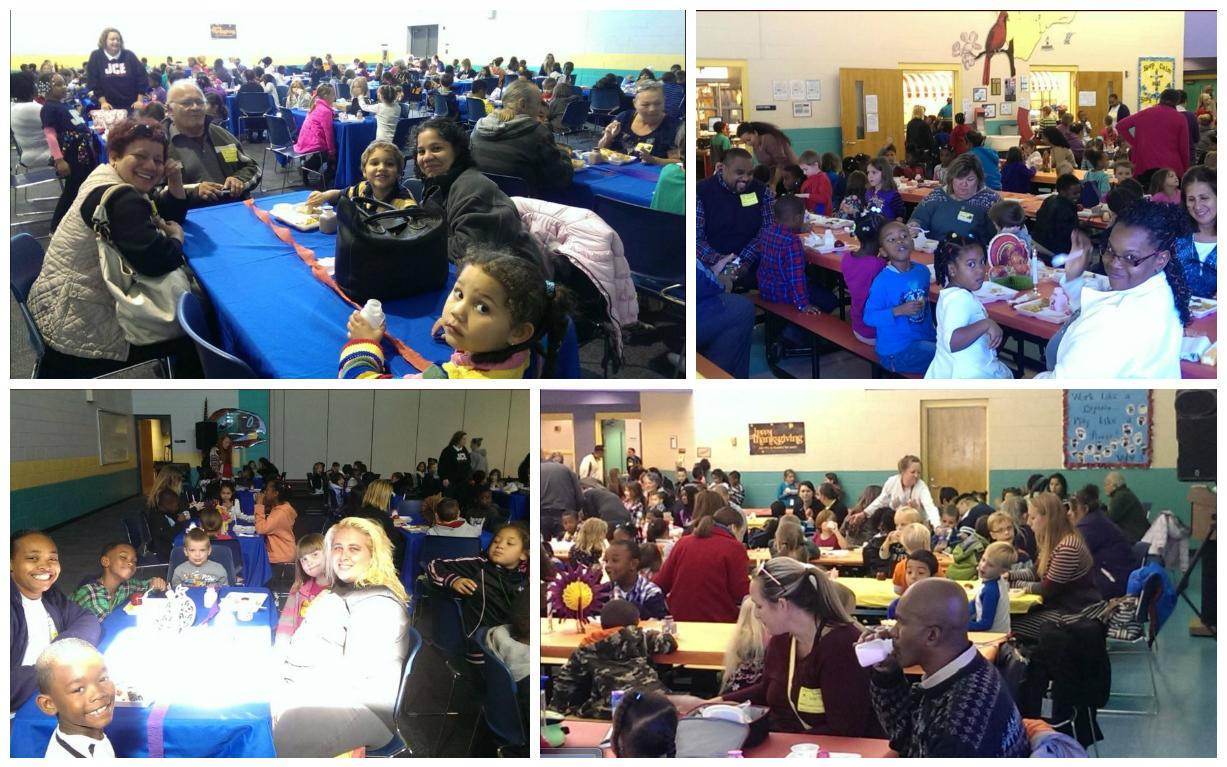 ---
Veterans Day Ceremony at JCE!
On Friday, November 13th, we celebrated Veterans Day here at JCE with a Flag Ceremony in front of the school. We were honored to have a Camp Lejeune Base Color Guard Unit raise the American Flag at the start of the school day. This was accompanied by the JCE Chorus signing the National Anthem with some of our students sharing what Veterans Day meant personally.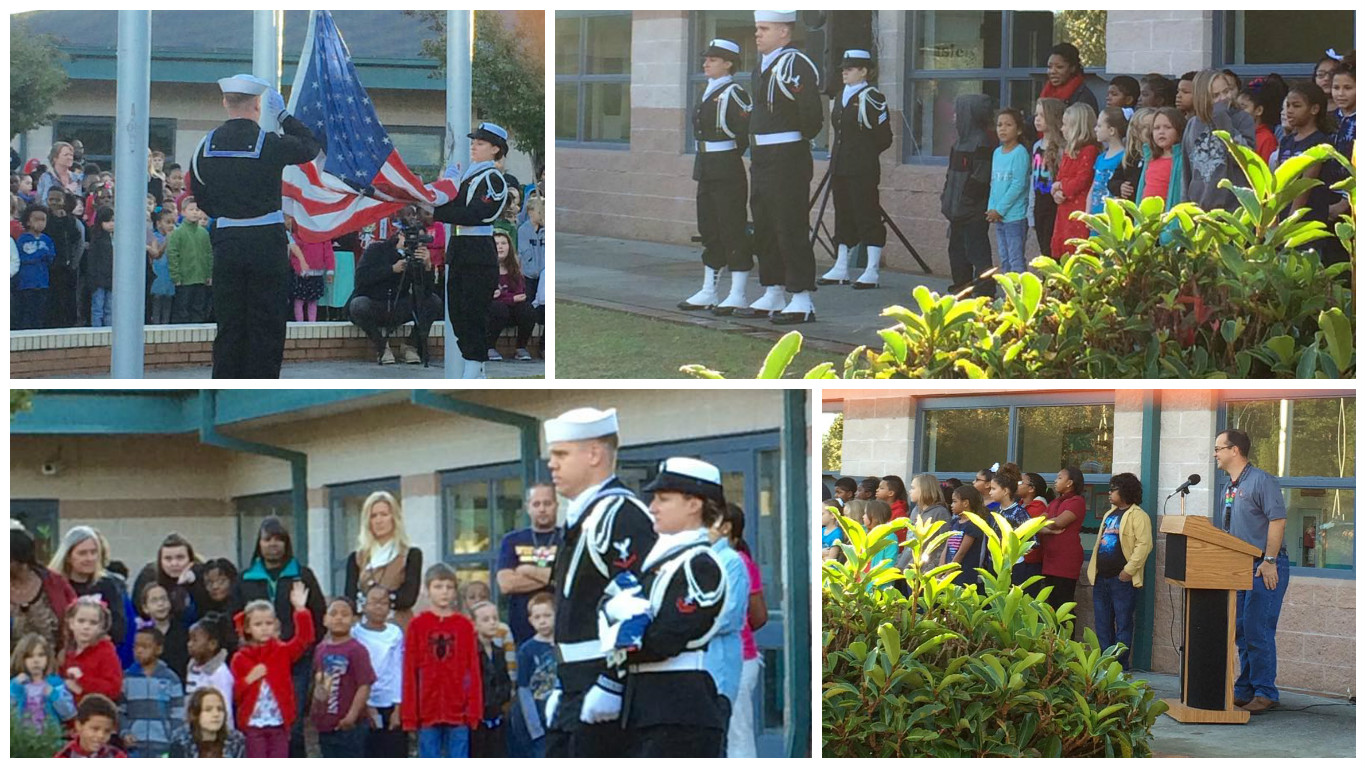 ---