JCE Summer Office Hours
8am - 11am
1pm - 5pm
Have a great summer JCES!!! Student Orientation for the 16-17 school year is set for Thursday, August 25, from 4-6:30.
---
Upcoming Important Dates
7/5-7/28 Summer Reading Camp at JCE 1st,2nd, 3rd grd.
8/2-4 Kindergarten Transition Camp, 8:30-11:30
8/2 & 8/3 Student Lighthouse Team Camp, 8:30-11:30
8/13 Kindergarten Readiness Fair 9:00-11
8/25 Orientation for students, 4-6:30 pm
8/29 First Day for Students
---
Kindergarten Transition Camp
JCE will be hosting Kindergarten Transition Camp from 8:30-11:30 daily, on Tuesday, August 2- Thursday, August 4th. During this time our kindergarten teachers will meet your children, do some pre-kindergarten assessment activities and help your child transition easily to their first year of school. We hope all our incoming kindergarten students will participate in this transition camp. To enroll, please fill out the attached flyer and return to our JCE office staff. Thanks so much and we can't wait to meet your precious child at this time.
---
Kindergarten Readiness Fair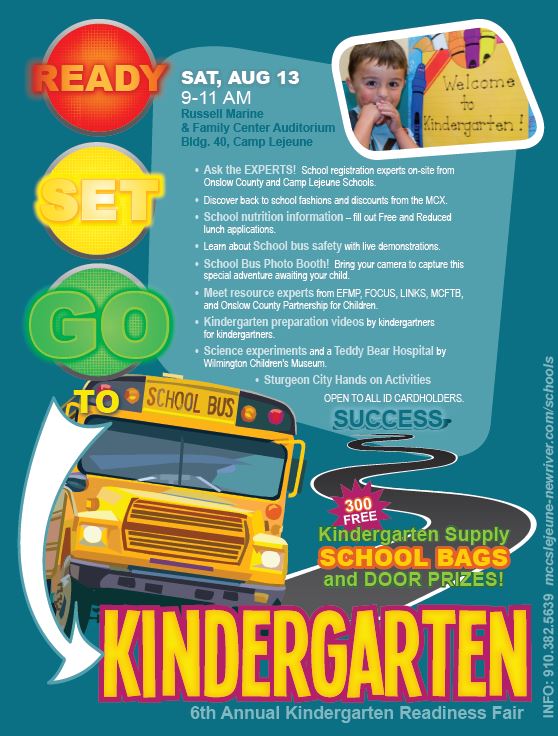 ---
Free Summer Lunch for Students
All K-12 Onslow County students can eat lunch for free in JCE's cafeteria daily, on Monday through Thursday, between 11-12 pm, from July 5th – August 4th, as part of the county's summer feeding program.
---
Summer Reading and Math
Keep those reading and math skills sharp. Students wanting extra math practice can access Think Through Math during the summer months. Free summer reading programs and good books are available at the main branch of the Onslow County Public Library at
58 Doris Avenue East
Jacksonville, NC 28540

Hours:
Mon-Thurs: 9:00am - 9:00pm
Fri & Sat: 9:00 am - 6:00pm
Sun: 1:00pm - 5:00 pm
More information is available at http://www.onslowcountync.gov/library/
---
2016-2017 JCE Student Supply List
---
Duke Energy Science Night Video
---
2015-2016 JCE Teacher of the Year/Teacher Assistant of the Year Announced
The JCE Teacher of the Year and Teacher Assistant of the Year have been announced. Mrs. Kim Ward, a second-grade teacher, was named Teacher of the Year. Ms. Vickie Reed, from the Exceptional Children's Department, was named Teacher Assistant of the Year. Both winners were nominated by their peers, and both of these educators exemplify dedication to the profession, dedication to the students and parents they serve, and dedication to Jacksonville Commons Elementary School. Mrs. Ward will now advance to the county level, and will compete against other nominees from other schools within Onslow County.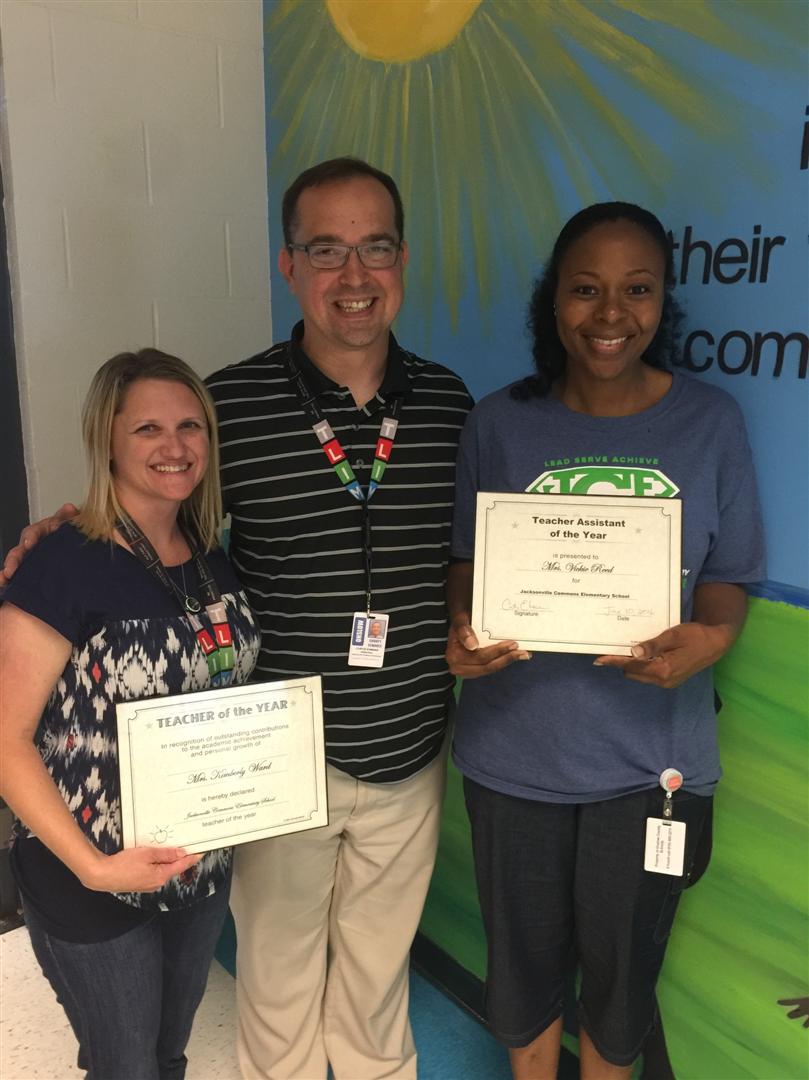 Pictured above from left to right: Kim Ward, JCE 2015-2016 Teacher of the Year, Curtis Ehmann, JCE Principal, Vickie Reed, 2015-2016 Teacher Assistant of the Year
---

JCE PTO News and Meeting Minutes for 2015-2016
Click HERE to read JCE PTO News and Meeting Minutes for 2015-2016
---
JCE Leader In Me Video from Leader In Me Day on April 20th, 2016
---
---